News
The crossroad of time and people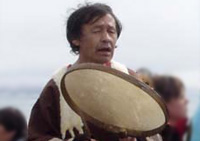 An Eskimo from
New Chaplino community
The magnificent lands of ancient Beringia are always happy to greet you. In earlier times, the courageous pioneers of polar exploration were led into these places not knowing what to expect. Today, however, there is a substantial amount of information to assist those in search of their own Beringia. Yet, even to set foot onto this remarkable landscape is to live though a one of a kind adventure, experienced by relatively few people.
Eastern Chukotka is marvelous landscape, a fragment of the Bering Land Bridge. For thousands of years it connected Asia and North America, having once risen from the bottom of the Bering Sea to hide there again thousands of years later. The Bering Strait is about 80 kilometers wide, with depth averaging 40-50 meters and a few spots as deep as 60 meters. Today the Strait connects two oceans – the Arctic and the Pacific, two seas – the Chukchi and the Bering, and two continents – North America and Eurasia, while separating "yesterday" from "tomorrow" with the International Dateline.
Most people think Chukotka to be the end of the Earth, but it is actually not true: we are at the world's major crossroads!


Here wild life still trusts people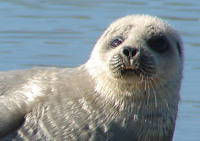 The Spotted seal on the shore
Flora and fauna of Beringia are unique and diverse. Scientists and adventurers from different countries dream of visiting this part of the world, and many go a great length to get here. They are attracted by the hundreds species of plants and animals, the splendor of the mystical tundra landscape. The wild nature is still the full owner of this land, which humans learned to share with other inhabitants. Would you like to watch grey whales and orcas from your window? Or to walk along the seashore in springtime, gazing at spotted seals sunbathing on one Chukotka's scenic beaches? The fish is plentiful here. And even the cranes walk in couples, unafraid of humans.
Not far away from the seashore are widgeons, oldsquaw, herring gulls, hovering over the waves. Hares and foxes are common: although one is always weary of the other, both remain trustful toward people. The plethora of wildflowers, abound during the short Arctic summer, never fails to delight us with its stunning, nearly intoxicating beauty. The proximity of nature and humans is evident in the everyday life. All these dream-like experiences are reality in the magnificent Beringia Park.