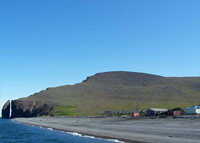 Inchoun area is one of the Park's northern territories. Administratively it is part of the Chukotski district. The area is situated right around the Arctic Circle. It is cold and windy here. The borders of the Inchoun section of the Park are considered to be the coast and waters of the Chukchi Sea from the Uelen Spit to the mouth of Chegitun' River, Koolen' Lake.
Guvalin Vadim Victorovich is the inspector for the area.
Inchoun (Eskimo name – Insig,wik, Chukchi name – I,nchuvin) means «cut nose». There is a large boulder near the village with a small part separated from the rest of the mass, which looks like a nose that has been cut by knife. It is a modern Chukchi community with 365 inhabitants. Local institutions include village administration, health clinic, cultural center, library, and school. Inchoun has a Chukchi dancing group "Vyrykvyn". Sea mammals such as grey whale, white whale, bearded seal, ringed seal, and spotted seal are the main source of food for the local people.
Here one can see arctic fox, fox, ermine, wolf, brown bear and other typical tundra animals.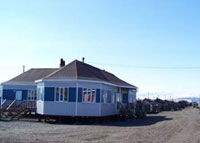 The world of birds is rich: common murre, glaucous gull, Steller's gull, pelagic cormorant, northern pintail, Canada goose, brant, bean goose, emperor goose, harlequin duck, and king eider. In early spring, local people fish for arctic cod and saffron cod. The Lake Iony is one of the scenic sights of the Inchoun area. This lake is nicknamed "Char Lake." Among the fish species found here is the rare Alaska black fish.