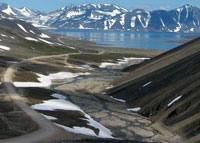 The New Chaplino area is one of the most picturesque on the Chukchi Peninsula.
It stretches from Cape Chukotski to the mouth of Penkighgey Bay and includes the Arakamchechen and Yttygran islands. Among its historic monuments are the sites of old settlements like Avan, Kivak, and Tasik
Aleksandr Borovik, Sergey Rentin are the Park inspectors, monitoring the New Chaplino area.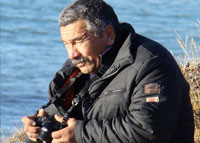 The village of New Chaplino, situated on the banks of Tkachen Bay, was founded in 1958 and currently has around 330 inhabitants, predominantly Yupik Eskimos. New Chaplino was established by the Soviet government to accommodate the people who were being relocated from smaller coastal settlements like Unazik, Chechen, Kivak, Plover, and others. Some of inhabitants come from the village of Naukan, located much further up the coast, near Cape Dezhnev. Some people have dog teams and participate in the annual dog race Nadezhda. Park inspector Sergey Rentin took part in this competition several times.
There are local administrative offices, library, health clinic, day care, and school. The village is home to two Yupik Eskimo traditional dance groups, Solnyshko and Zaichiki. Some of the community members also gather regularly at the village club Pagitak, where they speak Yupik language, bring and talk about old photographs, and share memories with one another.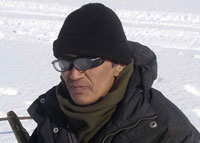 The view of the New Chaplino community on the route from Provideniya is magnificent.
The marine wildlife here is represented by gray whale, bowhead whale, white whale, humpback, sea lion, minke whale, harbor porpoise, walrus, ringed seal, spotted seal, and bearded seal.
Our inspectors observe snow sheep, wolf, arctic fox, fox, wolverine, lemming, and mountain hare. From the bird world we have northern fulmar, common eider, black-legged kittiwake, herring gull, glacous gull, pelagic cormorant, tuffed puffin, and horned puffin.
The site of Kivak is an archeological monument situated on Cape Nizmenny. Its early occupation dates to the 1st millennium B.C. The site was inhabited by Yupik Eskimos until mid-20th century A.D.
The site of Avan is also an archeological monument. It is situated south from Provideniya. People lived there between the 14th and 20th centuries A.D. Avan is a popular site where Provideniya residents like to come for an outdoors day or a picnic. There are numerous remnants of ancient dwellings and meat pits.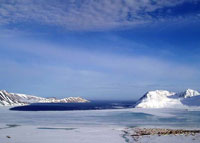 There are several Stone Age archaeological sites, such as Naivan, Puturah, and Ul'hum.
Chaplino Hot Springs is an aqua-botanical nature monument. It is a favorite place for recreation among many Provideniya and Chaplino residents. There is a swimming pool and a hostel. During summers, mushrooms and berries are plentiful. No less attractive are the Kivak Hot Springs. They are, however, much more difficult to access, because there are no roads.