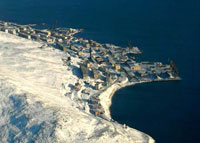 Provideniya Bay and the settlement carrying the same name can be seen on almost all physical maps of Russia and the world. Its geographical placement is extremely captivating for adventurous minds. The time here is Moscow + 9 hours. It means that when in Provideniya people wake up, our Nation's Capital is going to sleep!
Provideniya is situated at the foot of the Mt. Portovaya, a strikingly tall and steep, awe-inspiring landmark. No wonder it attracts so many hopeless romantics! Provideniya is a relatively young community. Its history begins with the establishment of the sea port in 1937. The bay was first put on the map by the Curbat Ivanov expedition in 1660, but its modern name "Provideniya" is credited to the English captain Thomas Moore. In 1848 his ship Plover was blessed with a good winter here, which inspired Moore to name Provideniya Bay in honor of "Saint Providence." This story is always enjoyed by tourists who come to our bay aboard the big cruise ships.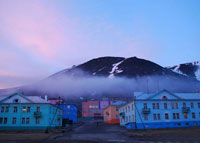 Provideniya is a center of one of Chukotka's administrative districts with population total around 2700. It houses various administrative offices, power station, water service facilities, district hospital, various educational institutions, and a local printing press which publishes the weekly newspaper "Polyarnik." Provideniya offers a number of educational resources and options: in addition to the secondary school, there are trade school, sport school, ski base, art school, and craft studio for children. Local cultural center hosts a wide range of events, such as concerts, jurried craft and performance shows, and community gatherings, while the Museum of Beringian Heritage offers a comprehensive look into the region's social and natural histories.
Provideniya is the site of the central headquarters of the Beringia Park. Our staff are: Anatoly Kosyak – Assistant Director, Igor Zagrebin – Head of the Providenskii Branch, Maria Panaugie – Head of the Chukotskii Branch,, Tatiyana Pen'kova – chief accountant.